By LIZ CRUMBLY
Editor
When Dane Valentine rode into the arena at this year's Pinto Horse World Championship Show to win the Youth Novice Walk/ Trot horsemanship class, it was on a sparkling, homebred palomino paint mare.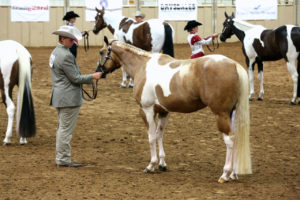 When Valentine calls "KTRs Elegant By Eight" a "homebred," he means his trainer, Keri Davidson, of Adairsville, Ga., is responsible for her breeding and birth. It's safe to say, however, that Valentine feels a certain claim to the young mare's success. He's ridden the now six-year-old "Ellie" for some time now, piloting her at two Pinto World Shows and numerous local events.
Their time spent together paid off in a big way at this year's World show; when their classes were over, Valentine ended up with the reserve high point award for the youth novice walk/ trot division. This year's World show also seems to have left Valentine with the valuable skill of knowing how to have fun while competing.
The show began a little unsteadily with the pair's first event – hunter under saddle.
---
See The CE Fall edition for more Pinto World Show coverage from the Southeast.
---
"We did awful because I was so nervous," Valentine explained. "Then I realized, 'We can actually do this.'"
Their equitation pattern yielded "way better of an experience," Valentine said, and he was able to relax as the classes took place and the results rolled in. He and Ellie also brought home a third in English showmanship, a fourth in Western showmanship and a seventh place in trail – all Youth Novice Walk/ Trot events. They also took reserve in open mare halter.
Valentine describes himself as "basically a homebred kid."
Until last year's Pinto World, his show experience was limited to local and Rider's Interscholastic Federation of North America (RIFNA) events. He describes the World show as "a huge culture shock."
"It was pretty crazy to see how many people actually do this sport," he explained.
Valentine just began his freshman year as a pre-veterinary student at Berry College in Rome, Ga. He plans to continue showing with Davison through his college years.