BY LIZ CRUMBLY
Editor
It's not common to hear a national championship coach and her team describing the experience of sharing the spotlight as "perfect." That was the Berry College Equestrian Team's general consensus about tying for a national championship this year with St. Andrews College, however.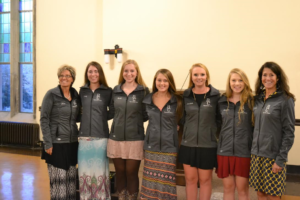 The Berry team members celebrated their IHSA (Intercollegiate Horse Shows Association) Western Team National Championship win in mid-September at their campus in Rome, Ga. IHSA Nationals took place in early May, but the five women who represented Berry dispersed immediately afterward for summer activities. They gathered in Berry's Ford Dining Hall just after the start of the school year with family, coaches and school administrators to celebrate the win – their second consecutive one – and collect their commemorative rings, belt buckles and jackets.
Getting back in the game
Berry Head Coach Margaret Knight described during the event how Berry was eliminated from Nationals contention by placing fourth at semi-finals this year, (the top three teams proceed to the championship). A rulebook disqualification of another team, she explained, allowed Berry to end up back at North America's largest collegiate riding competition to defend their 2015 Western team title, however.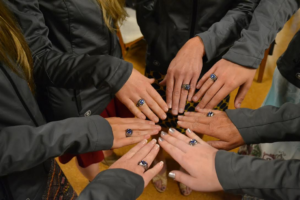 Berry had actually tied with Black Hawk College for fourth place at semis, Knight said, and the decision of which school would get the unexpectedly empty Nationals berth came down to who had earned the most blue ribbons at that show. Berry had one; Blackhawk had none.
Knight, a veritable IHSA rulebook wizard with a 19-year coaching career and three IHSA Western Team National championships to her name, was shocked to get the early morning call that sent the Berry team into a preparation frenzy. The women had to get back in the game mentally, but by the time they rolled into the Kentucky Horse Park in Lexington, they were ready.
In what's becoming Berry's typical understated style, the team that wasn't even originally supposed to be there began clawing its way up the scoreboard that weekend, and the women found themselves neck and neck with St. Andrews. IHSA historically does not break ties between teams at this level of competition, so when the schools ended up with identical points totals, they were declared co-champions.
'It just couldn't have been more perfect'
Assistant Western Team Coach Debra Wright spoke during the event of her friendship with Carla Wennberg, the Western coach at St. Andrews, a small Presbyterian college in Laurinburg, N.C., and the experience of the shared win. After Berry's initial elimination, Wright said, she'd hoped to see her longtime friend get the championship she'd been chasing for years – as it turned out, they shared the honor.
"It just couldn't have been any more perfect for us," Wright said, describing her team's elation at how their second consecutive winning season ended.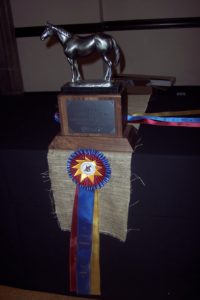 Wright also brought up the point that collegiate equestrian teams don't always get the attention she feels they deserve.
"These girls really represent this school great," she said, " and the industry needs to know more about them and the local community needs to know more about them."
---
IHSA: A SHORT PRIMER
Competitors are assigned mounts via a draw that takes place at each regular season and post-season show. Riders are given no warm-up and must "catch-ride" the horses they draw. At regular season shows, each school chooses a rider in each class to compete on behalf of the college; the points that rider earns are credited toward the school's cumulative season score. Riders not designated as "point riders" earn individual points, which are also cumulative. (Points earned by "point riders" also count as those riders' individual points.) Points carry over between school years, and riders who earn the 36 points required to move up a division qualify for regional finals. Open division riders must earn 28 points to qualify for regionals.
THE MARCH TO NATIONALS:
INDIVIDUAL RIDERS: Regional Finals: top two huntseat riders/ top two Western riders advance to Zone competitionSemifinals: top two huntseat riders/ top two Western riders advance to NationalsNational Finals: top 16 huntseat riders/ top 16 Western riders in the nation compete for huntseat and Western championships
TEAMS:Regional Finals: champion huntseat team/ champion Western team advance to Zone competitionSemifinals: top huntseat teams/ top two Western teams (numbers vary according to area) advance to Nationals
National Finals: top huntseat teams/ top Western teams in the nation compete for huntseat and Western championshipsClasses are also held at post-season shows for individually qualifying riders. The placing requirements for individual riders to advance to Nationals are the same as the team requirements (Regionals – top three; Zones – top two).See ihsainc.com for more information. 
---