By ELIZABETH POCZOBUT
IHSA Media Intern
Hello again from Berry Equestrian! The team has been extremely busy since returning to the world's largest campus in August! The Vikings have welcomed three new recruits and new six walk-on team members to the roster, as well as senior and veteran team member Mariel Wrench, who took a year off for school – she was on the 2015 IHSA Nationals team. Berry Equestrian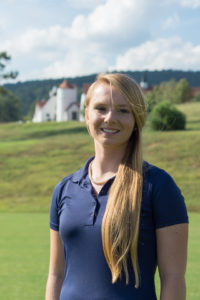 The team hosted its first home horse show Sept. 24 – we won the double header against Auburn, Mississippi State, Georgia Tech and others. The first show was a battle between Auburn and Berry until the final class of the day – Beginner Western Horsemanship. Emily Lambert channeled her energy  for Berry and pulled out a first place, allowing the Vikings to finish the show 34-33. With that first place, Emily pointed out of the Beginner division and will show at regionals as an individual post season!
AnnaLee Cooley also pointed out of Advanced in the first show and made her Open Reining debut in the second show. She showed reining horses exclusively before joining the team, and we are so excited to have her in that division now. The second show was a little less nerve wracking for the Vikings, who nearly swept the competition.
I won Reining and Open Horsemanship, Courtney Woodard won her Advanced class, Jennifer Wayman got the blue in Novice, and we finished the day with a second from Kinsey Figliolini and a second from newcomer Mary Catherine Hix to win our second show as a team.
The Vikings also held a celebration for the Nationals team members Sept. 18 where they received their rings and new jackets. Assistant Western Coach Debra Jones Wright, team member AnnaLee Cooley and team parent Carolyn Cooper all relived the Nationals experience for the guests – it made for a wonderful evening.
The equestrian team and Nationals riders were also recognized on the field during halftime of the Berry vs. Sewanee football game at Berry Sept. 24. It was a wonderful way to be recognized for the accomplishments of Berry Equestrian, and it opened a lot of eyes to just how great the team is. Professors, and classmates who didn't previously know about Berry Equestrian's most recent accomplishments have been asking questions and showing interest in what actually goes on at the Gunby Equine Center up on Berry's Mountain Campus.
The girls had a team bonding event this year at the outdoor pool on campus and enjoyed time together outside of the arena. We've also started a new tradition: team movie night, where we all camp out in an auditorium and watch a movie together – team bonding never stops! The Vikings will be back in action again Oct. 15 and 16 with a home show. The hunt seat team will be competing both days with a Western show on Saturday!
Ride em, Slide em, Jump em, GO Berry!
Elizabeth Poczobut is a senior political science major at Berry College in Rome, Ga., and captain of the school's Western IHSA equestrian team. She competes in Open Horsemanship and Reining. She contributes to The Collective Equestrian as an IHSA media intern.