By LIZ CRUMBLY
Editor
Competitive riders in running and judged events don't often mix company, owing to the fact that their shows usually happen in different places. There's one event in Georgia, however, that brings barrel racers, saddle seat, Western pleasure and equitation riders from all over the state together – and it's been doing so for half a century.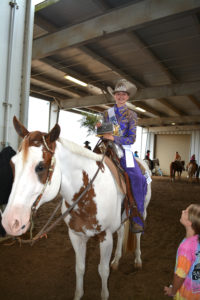 The Georgia State Federation of Saddle Clubs show turned 50 this year in its trademark reliable, low-key style. There was no glossy presentation of the festivities on the official website, no write-ups in national publications – just a bunch of dusty, passionate, exhausted riders at the end of the weekend who had pulled together to make the whole thing happen one more time.
Wendell Hall, president of the Deep Dixie Horseman's Association, the host organization for this year's state show, said the event went off without a hitch. In fact, he said officials with the Georgia National Fairgrounds in Perry, Ga., the state show venue since 1993, told him this year's show was one of the smoothest events ever to take place there.
A volunteer effort
Anyone in the Peach State who's competed at a local saddle club show under the jurisdiction of their regional horseman's association knows the Georgia State Federation of Saddle Clubs show every September is the end goal. Riders work all year within their regional association's guidelines to gather points through competition; at season's end, the top seven riders from each event advance to the state show.
Regions, in turn, accumulate points during the state show weekend. This year, the Coastal Plains Association was the timed event high point winner. This association comprises the following saddle clubs: Circle W, Ware County, Broken Spur, Diamond Bar D, Bit N' Spur and Brantley County.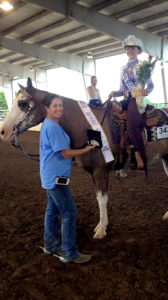 The Northwest Georgia Horsemans' Association took the high point spot for the judged events and also the overall high point award. The Northwest association is made up of The Bartow County, Paulding County and Lost Mountain Saddle Clubs.
Each regional event – and by extension, the state show – has a full array of classes for youth and adults. Hall said he feels the whole experience is a good setup for youth looking to expand their showing experiences.
---
See The CE Fall edition for more Ga. state show coverage.
---
"It's a training ground for the children," he said. "That's where they get their start and then move on to the bigger shows."
Indeed, for many riders, the regional shows are the background hum between larger breed shows and running events. For others, they're the centerpiece of their showing experience. No matter the participants' focus, they all have to display a certain amount of commitment. Each state show participant, as Hall explained, is required to volunteer a set number of hours with their regional association during the year and also during the state show weekend.
Hall's words for the state show competitors in this year's semi centennial program reflected the commitment made by each individual to represent their home saddle club and region:
"As a state qualifier, you have demonstrated the art of commitment between horse and rider," he wrote. "You have showcased the horse's power, balance and rhythm with obedience and suppleness. Also showcased is your precision and accuracy as you and your horse negotiated a set course of strategically-placed obstacles within the arena."