ABOUT US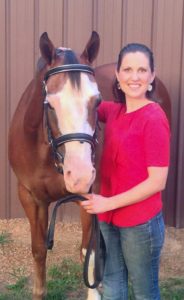 I feel the concept of community journalism is deeply relevant to the horse world. We at the Collective Equestrian make it our goal to find stories from throughout the Southeast that may never otherwise be told. In fact, I encourage our readers to contact us with story ideas and calendar items. Hyperlocal: it's a journalistic buzzword that was very popular a few years ago, but I feel it has a timeless relevance. We, as horse people, are no different from the rest of society in that we are interested in what our neighbors are doing.
So bring your coffee cup and spend a few minutes at the proverbial backyard fence learning about your fellow local equestrians. The Collective Equestrian seeks to do just what its name implies: bring together the Southeastern equestrian community in a collective, local effort.
ABOUT ME
I've been a journalist for more than a decade. I graduated Berry College in 2005 with a degree in English, and a pathway through the world of professional writing opened for me in newspapers.
I've worked for several papers, piloting two of them as editor. I led my newspaper staffs to numerous Georgia Press Association awards for content, community service and design. I became heavily involved in every community I worked in, serving on civic committees and community boards. During that time, I learned to really value the impact of community journalism, and I seek to bring that perspective to the horse world.
Liz can be contacted directly at editor@collectiveequestrian.com or 770-656-7238.