By LIZ CRUMBLY
Editor
Haley Settles entered this year's Pinto World Show with a new perspective – literally. It was her first World show with her four-year-old "WR Magic Mike" – a gentle giant at nearly 17.3 hands.
The gelding, known as "Jackson" around the barn, is quite a bit taller than Settles' previous 15.1-hand mount. Settles and Jackson missed the all-around high point award for their division by one point, but the show was an overall success for 19-year-old Settles' first year as an amateur.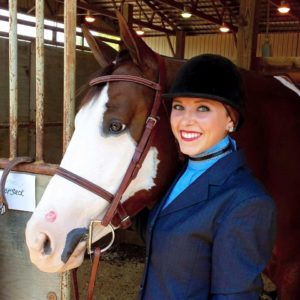 She competed in the Amateur Walk/ Trot division and took home a world championship in equitation, a reserve world championship in hunter under saddle a fifth place in English showmanship, a seventh place in Western showmanship and a ninth place in Ideal Pinto English. The pair also made finals for horsemanship.
Settles is pleased with her youngster's first performance at such a large show and also with the character he displayed.
"Within the past year, he's learned so much," she says. "He's a big baby – he has a heart of gold."
Settles' future plans include showing Jackson in the Pinto junior horse events next year and letting her trainer, Billy Korsack, of Shannon, Ga., take him in the open classes. Settles would also love to try the big gelding over fences later down the line.
---
See The CE Fall edition for more Pinto World Show coverage from the Southeast.
---
Settles had two important endeavors beckoning her home to Hixson, Tenn., from Tulsa. She had to prepare to enter her junior year of the pre-med program at the University of Tennessee – Chattanooga, and she needed to get home to a special group of riders. Settles works with special needs individuals on their horseback riding skills on a regular basis.
The mission began when she was just 12 years old; the family of then-20-year-old Kelly Winters approached Settles about riding instruction for Winters after her previous instructor stopped giving lessons.
Despite her youth, Settles jumped at the chance to work with Winters, who has Downs Syndrome. The lessons proved to be rewarding for both Winters and Settles, who can hardly describe her friend's riding success without choking up.
"She's the sweetest, happiest person I've ever been around," Settles says of Winters.
Settles has acquired several other riders over the years, including a four-year-old child with Downs Syndrome, as well as riders with autism, cerebral palsy and Prater Willie Syndrome. She teaches them on her trusted youth show horse.
Settles doesn't profit monetarily from the instruction she provides, and she feels the privilege of teaching special needs riders is hers. She says she's "humbled" by the fact that parents trust her with their treasured children. She's also seen that her riders are fully capable of accomplishing their riding goals.
"They might be physically disabled, but they can do anything they set their minds to," she says. Those interested in lessons for special needs individuals in the Hixson, Tenn., area may contact Settles at  haleysettles@gmail.com.