WELCOME TO THE COLLECTIVE EQUESTRIAN ACADEMY
QUESTIONS? Call/ text Academy owner Elizabeth Crumbly: 770-656-7238.
We're thrilled you've chosen The Collective Equestrian Academy. Please know that our intent is to foster a love of horses in a welcoming, supportive atmosphere. Your child will receive instruction for riding and horsekeeping as part of the structured curriculum we use called Learning Levels.
About us: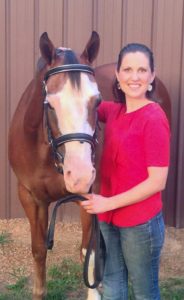 – Academy owner Liz Crumbly is a Berry College graduate and lifelong equestrian. She began riding at the age of eight and eventually became an open-level rider for the Berry College Equestrian Team, representing her school twice in national competition in both hunt seat equitation and Western horsemanship. She has shown horses extensively with the American Quarter Horse Association and United States Dressage Federation. She now makes it her commitment to provide your child with compassionate, experienced instructors and horses for a fun and educational horse experience.
– The Academy is housed on 50 acres of woods and pasture on John's Creek in beautiful Rosedale (or Everett Springs, depending on which local you ask). It's home to horses, cats and chickens.
– Our lesson ponies: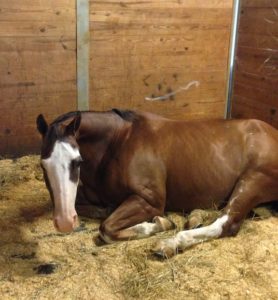 Cheyenne is a 23-year-old retired show horse double registered with AQHA and APHA. Her registered name is "Rosies Two Step." Her color is called bay overo, and she is 15.1 hands. During her show career, she competed in lunge line, trail, hunter under saddle and dressage. Chey has had several babies, and she now leads the herd here as boss mare in the pasture. She is great at teaching our advanced beginners to canter.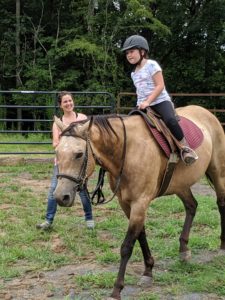 Ava is a 17-year-old registered Quarter Horse. She is buckskin in color, and she stands 14.3 hands at the shoulder. Her registered name is "Double Trouble Daisy," and during her show career, she competed in all-around breed show events – showmanship, horsemanship, hunter equitation, hunter under saddle and Western pleasure. She excels at teaching our beginners how to jog and trot.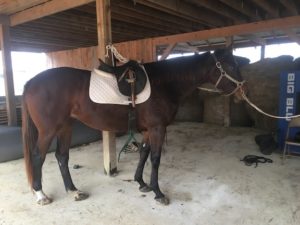 Flaire is a 14-year-old Jockey Club-registered Thoroughbred mare. Her color is called seal bay, and she stands 16.3 hands. She had 33 starts on the track and a hunter-jumper show career after that. She is a step-up horse for our intermediate riders, and she teaches beginning jumping.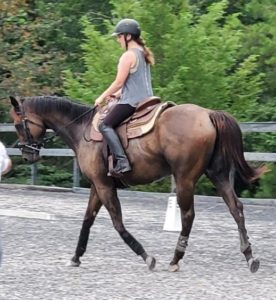 London is a 6-year-old Jockey Club-registered Thoroughbred mare. She is seal bay in color and is 16.3 hands tall. She went into race training as a two-year-old, but she never raced. She schools dressage and is learning to jump, and we use her for horsekeeping and occasional riding during lessons.