Welcome to The Collective Equestrian Academy!
QUESTIONS? Call/ text Academy owner Elizabeth Crumbly: 770-656-7238.
LESSONS: We offer beginner to intermediate riding lessons for children and adults in Rosedale, Ga., convenient to Calhoun, Rome, Summerville and Adairsville. Our lessons take place with experienced instructors and school horses. Our half-hour rate is $35. Our hourly rate is $50. We use the Horsesense Learning Levels curriculum for mounted and unmounted instruction. We prefer to see our students on a weekly basis, but we do bi-weekly lessons as well.
We require monthly advance payments for lesson packages, which can be made at the bottom of this page. Checks may be made out to TCEA and mailed to 1216 Everett Springs Road NE, Calhoun, Ga. 30701
CAMPS: We will offer two more youth camps this summer. Dates: July 15-19 and July 22-26. Daily activities include: 30-minute mounted individual instruction, horse-related crafts daily, horse care and tack learning sessions, barn and pasture management lessons and tours of our facility. At the end of camp, we'll have a small show to show off what our young people have learned! Camp payments can be made at at the bottom of this page.
PHOTO SESSIONS: We have partnered with an equine photographer to offer unicorn photo sessions! Check back for dates.
MINI-CAMPS: Throughout the year, we will offer three-day mini youth camps where riders can work on "leveling up" to advance toward the next Horsesense Learning Level. Like our other camps, there will be crafts, snacks and farm tours. Check back for dates.
About us – click the image below: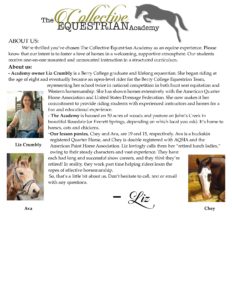 Click the image for our day camp 2019 information packet.