Welcome to The Collective Equestrian Academy!
QUESTIONS? Call/ text Academy owner Elizabeth Crumbly: 770-656-7238.
LESSONS: We offer beginner to intermediate riding lessons. We are located in Everett Springs, convenient to Calhoun, Rome, Summerville and Adairsville. Riding takes place with experienced instructors and school horses. Our half-hour rate is $35. Our hourly rate is $60. We use the Horsesense Learning Levels curriculum for mounted and unmounted instruction. We accept cash or checks when you're here for lessons.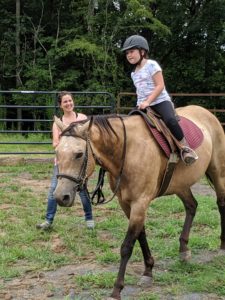 CAMPS: We offer youth camps each summer. Please call or email for dates. Daily activities include: mounted individual instruction, horse-related crafts daily, horse care and tack learning sessions, barn and pasture management lessons and tours of our facility. At the end of camp, we'll have a small show to display what our young people have learned! Camp payments can be made at at the bottom of this page.
About us – click the image below: