By LIZ CRUMBLY
Editor
A Nashville jewelry designer who has catered to such celebrities as Reba McEntire and Connie Britton is now seeking to install staples in equestrian wardrobes. With his beautiful but practical designs, Vincent Peach is well on his way.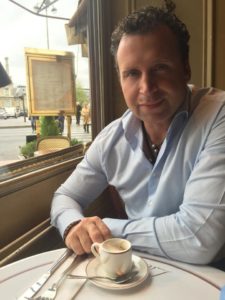 Like preceding Vincent Peach collections, the new Equestrian Collection features pearls prominently. Many of the pieces, with their simplicity and sturdiness, wouldn't look out of place on a rider schooling in a sandy arena or braiding a horse on the showgrounds.
Durability, Peach says, is key in his designs. His bracelets and necklaces often feature leather as their bases with pearl accents. They're ready to stand up to riders' lifestyles, according to Peach.
A pearl's exterior layer, or nacre (also known as mother of pearl), is as hard as enamel on teeth, he explains. He can personally vouch for the longevity of his pieces, having worn a good many of them, literally, everywhere.
"My particular pieces that I wear, I never take off – I shower in them!" he says.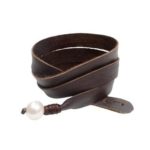 When he added the equestrian-themed line to his already extensive jewelry collection, Peach was attempting to meld functionality with a sense of indulgence, in a Ralph Lauren sort of way. He calls the resulting effort "a combination of living the equestrian lifestyle and sophisticated luxury."
The rustic aesthetic of the Equestrian Collection pieces have made them popular with the Nashville crowd. Country singers McEntire and Carrie Underwood have been spotted wearing several of them. Britton, of the country music-centered television drama "Nashville," has also partaken of the Equestrian Collection, according to Peach.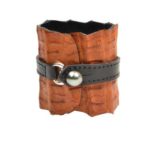 As he broadens his Equestrian Collection offerings, it seems riders are taking note. Vincent Peach designs were featured in the Churchill Downs Magazine Derby Edition earlier this year and also made an appearance at the Four Seasons booth at the 2016 International Polo match in Wellington, Fla.
---
PURCHASE ONLINE: www.vincentpeach.com
---
Peach grew up watching his family make a living in the wholesale pearl business, so it was only natural for him to incorporate the gems into his designs. He plans to add some Western-themed pieces to the Equestrian Collection, as well as diamond accents, but pearls, he says, will always have their place in his creations.
Like his relationship with pearls, his association with horses stretches back to his childhood. He's kept a foot in the equestrian world as owner of the aptly-named and iconic "La Pearla" ranch.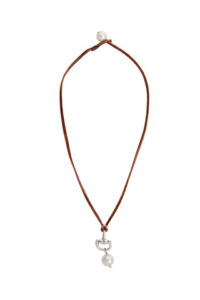 "It's a landmark spot in Nashville," Peach explains. "It's a big part of who I am."
The land boasts three log cabins, and it's there that the designer goes to recharge and watch his Quarter Horses congregate at feeding time at the beginning of each day.
"I love seeing them," he says. "They all gather around the fence."