By LIZ CRUMBLY
Editor
The Western team competition at this year's Intercollegiate Horse Shows Association Nationals ended in a tie, allowing a long-term friendship between two coaches to shine.
Coach Carla Wennberg, of St. Andrews University, and Assistant Coach Debra Wright, of Berry College, have a relationship that stretches back to Wright's days as a college student. When she realized their riders had tied for the Western team championship at the Kentucky Horse Park in early May, Wright said she was overjoyed.
"I couldn't imagine it turning out any better," she said. "It was a win-win situation any way you look at it."
Wennberg echoed the sentiment, saying of her longtime friend, "We share a lot of the same passions. We always try to help each other. That's what IHSA is all about … encouraging everyone to be better."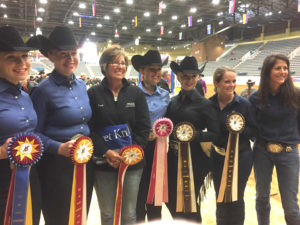 Going way back
The two met at the University of Georgia in the early 1980s where Wright was a student and Wennberg had recently graduated and was working as a barn manager. Their careers took similar trajectories with both women earning multiple judging cards to preside over performance horse events. Wennberg has judged American Quarter Horse Association (AQHA) shows for about 30 years now, and Wright has a 22-year tenure with that association. They've both judged IHSA western events extensively, and they tend to bring the judging perspective to their leadership styles.
"I feel that (judging) has probably given Debra and I a lot different insight into coaching," Wennberg explained. She said seeing the rules and format of an association from a judge's standpoint helps to drive the scoring details home to riders.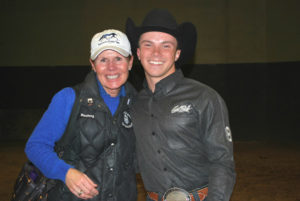 Wennberg and Wright both brought teams with strong riders who needed a shot in the arm in terms of confidence at one point or another during the competition. Wright's Berry College riders barely missed qualifying for Nationals, placing fourth at their semifinal competition; they proceeded to Nationals on emergency notice after another team was disqualified. Because of this whirlwind turn of events, Wright said, she had to dig deep into her mental reserves to keep the students' confidence up.
Wennberg said her riders suffered a blow after their reining competitor didn't place as high as expected early in the competition. Her rider patted the horse after completing the pattern and "had the right attitude," Wennberg said, but the coach herself had begun to sweat the situation.
Wright apparently realized her friend was a little worried. Wennberg said Wright encouraged her and reminded her that Berry didn't garner reining points in their successful bid for the team championship in 2015.
"'Get over your bad self,'" was the basic message Wennberg said she got from Wright, who encouraged her to stay positive and keep her eyes on the championship.
This type of relationship makes the coaching gig that much richer, Wennberg said.
"I don't care how good a coach or a trainer you are," she said. "You need to reach out."