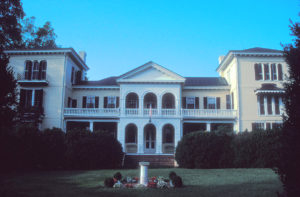 EDITOR'S NOTE: 
The world learned just how determined and resourceful the Sweet Briar Vixens can be when the alumnae of the Virginia women's college kicked off an aggressive attempt earlier this year to save their beloved alma mater from closure.
 The negative reaction was widespread and swift among the alumnae when the college administration announced that the school would close its doors this coming August. Champions of the 114-year-old women's institution, which is located just north of Lynchburg, Va., launched Saving Sweet Briar, Inc., a non-profit organization that is seeking to raise $20  million in order to keep the college afloat for the time being. According to the group's website, savingsweetbriar.com, $16 million has poured in since March. Donations are still being accepted and are tax deductible.
 The organization has also launched a legal battle in an attempt to halt the impending closure of the school.
Sweet Briar's situation has been of particular interest to many equestrians because of the college's historically strong horse program. Today, it offers an equine studies program, and its riding teams are competitive in national associations including IHSA and ANRC.
 One of the Georgia equestrian community's most vocal champions of Sweet Briar has been Karen McGoldrick, a 1979 graduate. Today, she makes her home in Alpharetta, Ga., and is a successful dressage instructor and novelist. Her literary offerings include "The Dressage Chronicles" and its followup, "The Dressage Chronicles II: A Matter of Feel." McGoldrick wrote the following of her beloved college:
My life was changed completely the day I arrived at Sweet Briar in ways I never could have imagined.

I grew up in Claremont, in Los Angeles County, California. I had never seen Sweet Briar before move in day. I had never even visited the State of Virginia. Neither of my parents had seen Sweet Briar either. We did not have money for such things as travel.

Sweet Briar had been recommended to my family by a graduate student of my father's. Alan Balch had become Vice President of Santa Anita race track, and manager of the Del Mar horse show, and the Forum International horse show. He later would run the equestrian venue for the 1986 Olympics, and become President of the AHSA. He highly recommended the riding program at Sweet Briar, and especially its director Paul Cronin.

I did not want to go to college…I just wanted to ride. But, as my father was a college professor, he was firm. I was going. Sweet Briar was our compromise.

Everything was foreign. My clothes were all wrong, the air, the light, the overwhelming greenery and especially the humidity kept me off balance my first days. I had never seen sweat beading on my skin before, and remember the confusion of seeing drops on the pommel of my saddle, and looking skyward for the rain. When people cheerily yelled "hey" at me, I remember thinking, "hey, what?"

But, it didn't take me long to realize, getting thrown into the Briar patch at Sweet Briar was the opportunity of a lifetime.

My roommate also rode, and we were both placed into Paul Cronin's only freshman riding class. We forged an instant friendship and soon just referred to each other as sister…as we still do today.

My advisor was a handsome guy with a red setter and an odd accent; Ross Dabney. Dabney taught my Freshman English class too. His classes were lively and fun and the books we read were engaging. Pretty soon I found that class never really ended. I found that some of us just kept talking and did not stop for the next four years. I was impressed by my classmates, some of whom were blazingly bright and clever. To hang onto their blasts of brilliance, to just be part of the conversations, was like catching hold of mildly electrified wire. You felt it though your entire being and darn it but you couldn't let it go.

And then I met my future husband, at a Wednesday night mixer in the gym; another bolt of electricity, more endless conversations. And he was from Georgia, a state that I only knew from Gone with the Wind.

Los Angeles, even with its sunshine, never stood a chance. I graduated with a degree in English and creative writing.

Lawrence and I got married on the Monday after graduation, at the chapel at UVA. That way my SBC sisters and faculty members could be there.

We moved to Houston, where my first job was at a small advertising agency as a junior copywriter. I did get to write and produce radio spots and write newspaper, magazine, and billboard ads. I bought a cheap horse and rode after work.

But I hated the advertising work and quit after 10 months. I really had no expectations after graduating about my career. I never felt that the world owed me anything. It was up to me to design the life I wanted. And after casting about, and aborting a Masters degree in education after I finished my student teaching stint in the classroom, I went right back to the horses and became a professional rider and trainer, focusing on dressage.

I never stopped reading and writing, for the pure love of it. I decided to write a novel as a tool for teaching about training horses and riding. I did not see anything out there like it, and as I loved reading historical fiction as a way to dive into a time in history, I thought others would enjoy learning through story-telling about horses.

And so I wrote The Dressage Chronicles. It was well received, so I wrote the sequel, "A Matter of Feel." And now I am writing the third book and final book in the series, "Rings of Fire." Today I split my day in two, teaching and riding in the mornings at my beautiful little farm, and writing in the afternoons. I couldn't ask for anything better.

The announced closing of Sweet Briar hit me like a physical blow. It was a betrayal by those entrusted with her care. You do not kill that which you are charged to protect and preserve. I believe, that now, perhaps more than in recent decades, women's education is critical.

I now feel guilty that I assumed that those leading our beloved Sweet Briar would love her and be proud of her and fight to carry her forward for future generations. I will never be so complacent again. I have one gift that I can offer, and that is my voice. I have been interviewed and I have written opinion pieces. I have my audience among horsewomen and readers. I am engaged and vocal.

I am so impressed, as always, by my brilliant Sweet Briar sisters. They are still blazingly bright and clever. To hang onto their blasts of brilliance, to just be part of the conversations, is still like catching hold of mildly electrified wire. I still feel it though my entire being and darn it, I still can't let go. I am proud to fight this battle, shoulder to shoulder with you.

Holla Holla.

Karen Jaffa McGoldrick,

Class of 1979