ELIZABETH POCZOBUT
IHSA Media Intern

Berry College Equestrian recently welcomed back a teammate to campus. Sara Claudia Tillman, a senior, restarted her education at the beginning of the spring semester after a reaction to a tonsillectomy left her without sight last year.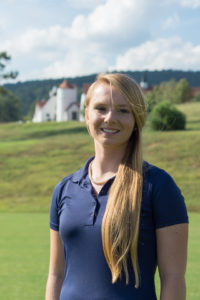 Last May, after a normal tonsillectomy, SC, as her teammates call her, experienced a stroke, which caused severe damage to her optic nerve that resulted in total blindness. Throughout the summer, SC and her family saw numerous doctors and specialists in hopes of repairing her optic nerve and restoring her vision. This journey even included a trip to China for stem cell treatment. After missing fall semester, Sara Claudia was determined to be back at Berry in the spring.
After months of practice and hard work, Sara Claudia is fully and independently mobile with the help of her mobility cane. She can text, post to social media, navigate her phone and computer with ease, and has begun learning braille. She does ride on occasion, and has switched to the Western side of things from her original huntseat realm for the time being; she even dabbled in a little reining this summer.
Since the treatment in China, SC has reported being able to see faint light changes when a light is turned on in a dark room, and has had MRI scans that show a complete restoration of her optic nerve. We are all hopeful that her body will continue to repair itself and that she will regain full sight in a matter of months. In the meantime, she is navigating her way through this spring semester at Berry with her mobility cane and a little help from her wonderful mother and friends. If all goes well and she ends up regaining sight, watch out for her in the show pen!
She's a veteran exhibitor, having ridden for the Berry Equestrian team her freshman, sophomore, and junior years and competed at Nationals for two top three finishes during her first two years as a collegiate athlete.