By ELIZABETH POCZOBUT
IHSA Media Intern
Hello again from Berry Equestrian!
It'd been a crazy few weeks for the Western team! Semifinals was held at Black Hawk College in Illinois in March, and the team ended up fourth after a very long weekend. For those of you unfamiliar with IHSA (Intercollegiate Horse Shows Association), only the top three western teams at from each semifinal competition (there are three across the country) advance to Nationals.
We returned to Georgia a little bummed that we wouldn't be returning to defend our national championship from 2015, but we were confident it was all part of a bigger plan. After a week off from lessons, workouts and team responsibilities, the team members to an early Saturday morning phone call from Coach Margaret Knight that changed all our plans.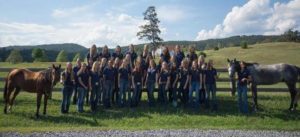 "One of the teams can't go to Nationals, so that bumps us up, and we're going!" Coach informed us. After some scrambling to get reorganized, lessons started back the following Monday, and we hit the ground running. Three weeks later, we've multiple lunge lessons, drilled the patterns until we can do them in our sleep and traveled to Meneely Performance Horses outside of Atlanta for a clinic.
Now, it's about two weeks before we depart for Nationals in Lexington, Ky., and everyone's working hard to make it a great trip. There are definitely some nerves, but it's mainly excitement from the girls on the team. This opportunity not only allows us to defend Berry's national title, but also to grow closer as a team and work together toward our common goal!
In the words of AnnaLee Cooley, sophomore and returning rider from the Nationals team last year,  "We're all very excited and honored to be competing at Nationals this year. We've tasted defeat and it's pushed us to work harder and ride smarter. We're a young team (three freshmen, a sophomore and a junior), but we have confidence in each of our riders to be serious competitors!"
If you're in the Lexington area the first weekend of May (the same weekend as the Kentucky Derby!),  come by and check out the IHSA National Competition and see what it's all about!