By LIZ CRUMBLY
Editor
The EMM (Extreme Mustang Makeover) challenges have exploded in popularity in the eight years since the first one took place in Fort Worth, Texas.
Not only is the final show a blast to watch, but the program "gives horsemen a platform to be highlighted and showcased," according to Kyla Hogan, marketing director for the Mustang Heritage Foundation, which oversees the EMM challenges.
It's also a chance, she said to "provide a gentled animal to the public," as the Mustangs are auctioned after the final performance of the EMM challenges.
These performances, Hogan said, have taken place in 60 locations across 15 states since 2007, and the Foundation is adding new locations each year.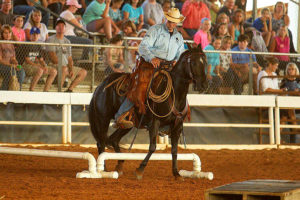 Horses used in the program are rounded up from Western states, Hogan explained. Participating trainers have approximately 100 days to gentle their assigned Mustangs after picking them up from a Bureau of Land Management holding facility. During the final event, trainers showcase what their Mustangs have learned in a freestyle performance.
The Georgia EMM took place in Gainesville this August at the Chicopee Woods Agricultural Center, and the event was a success for the Foundation, according to Hogan.
"Georgia was great," she said. "We had an excellent turnout."
Although the Peach State is not on the EMM 2016 calendar, Hogan said the challenges will be back in the Southeast at the Jacksonville Equestrian Center in Jacksonville, Fla. in May.
She said she's seen significant excitement from fans in the Southeast, possibly because of the public's limited access to Mustangs here, and she said the Foundation is attempting to add events along the East Coast.
See extrememustangmakeover.com for the full 2016 challenge schedule.