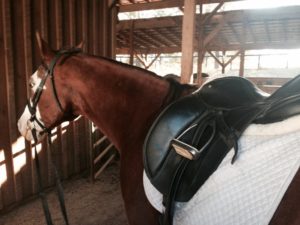 You can pretty well assume a company is equestrian-centric to the core when its founder comes up with the idea for it on course.
"I had the idea for Ride Heels Down mid-air over a jump," recalled the Atlanta-based apparel company's owner, Ainsley Jacobs.
She had been working her APHA gelding, JJ, over a novice-height course for the first time.
The Ride Heels Down moniker seemed appropriate for a company catering to eventing – a sport where a secure lower leg is a must. Jacobs also wanted to bring out the enthusiasm eventers have for their sport in a line of clothing that she felt would fill a largely unserved niche. Before launching RHD last September, she'd seen a good deal of casual clothing made for hunter riders, but nothing that was specifically tailored toward her chosen discipline, she said.
"My goal was to have it be really affordable and focus mainly on eventing," she explained. "Through that, we can focus on three different disciplines: dressage, showjumping and cross country."
The RHD designs are "fun, a little irreverent," Jacobs said. "Riders will see them and say, 'Oh yeah – I get it!'"
Indeed, the designs often read like inside jokes for the horse world. The T-shirts, tanks and sweatshirts feature sayings like, "Born to Shine on the Centerline" (a nod to Dom Schramm's blingtastic "Dressage Skillz" music video for EventionTV) and "Heels Down, Bottoms Up" (an acknowledgement that liquid libation is sometimes necessary at the end of a long show day). The RHD line also includes jewelry directed toward equestrian tastes, e.g. "Red on the Right" studs inspired by jump marker flags.
The RHD designs have begun to gain traction among eventers in GA and beyond, and Jacobs has received reports of them showing up at places like the Dover Saddlery tent sale in Alpharetta, Georgia, and Rolex Kentucky Three-Day Event in Lexington.
For an entrepreneur who's responsible for "literally 100 percent" of her company's functions, this evidence of consumer awareness has been gratifying.
"That's the coolest feeling," Jacobs said.
---
About Ainsley Jacobs:
Ainsley Jacobs has an eventing blog accessible at rideheelsdown.com where she records her lesson and showing experiences. Two equestrian news outlets, Horse Nation and Eventing Nation, took notice, resulting in increased exposure over the past year. Horse Nation interviewed Jacobs for its "Cool Horse Jobs" series, and Eventing Nation runs Jacobs' blog postings regularly.
Jacobs' day job is in marketing, and she's put her expertise in that area to work for RHD. The company has already garnered nearly 8,000 Facebook page likes and close to 7,000 Instagram followers. Her advice to equestrians looking to grow their social media following: make updates easy by posting daily photos from a smartphone.
JJ actually began his performance career in Western pleasure. He's Jacobs' first horse – she purchased him earlier this year.