Timothy Harfield gives voice and advice to an unreached demographic

By LIZ CRUMBLY
Editor
An early evening call to Timothy Harfield will likely find him commuting home from his job as Project Director in the Office of Enrollment Management and Student Success at Georgia State University. It may even reveal that he is en route to pick up a certain oblong, cushy feminine product that just happens to work wonders in the process of bandaging an injured horse's leg.
As he very sincerely extolls the benefits of using maxi pads as the first layer of wound covering , it's hard not to wonder what brought Harfield, a self-confessed, non-horsey philosopher, to a point where this sort of errand is part of daily life.
The answer is that he is married to Elisa Wallace, a professional three-day eventer whose name is quickly becoming a fixture in equestrian households. Life with Wallace has required that Harfield learn to take show horses and their peculiarities in stride, and he's using his experience as an opportunity to create a dialogue within the horse world and to reach a historically underserved demographic: the horse husband.
After many interactions with other non-horsey spouses – mostly husbands – of equestrians, he realized he was not alone in tackling a learning curve. He started Horsehubby.com to create a space for horse husbands to share their experiences, offer advice, laugh and connect with others. He said the feedback has been overwhelmingly positive.
"The response was just really spectacular," he explained. "I've just used it as an opportunity to explore what it means to be the husband of an equestrian. There are a lot of us."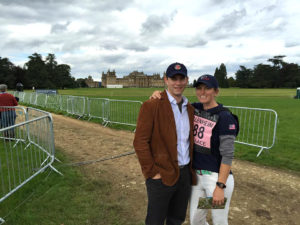 Harfield has used the blog as an outlet for small but significant questions that plague husbands – e.g. "What on earth am I supposed to wear on my feet at a horseshow?" – and also to explore the bigger picture of what it means to have horses as a central of one's life.
He has noticed, for instance, that couples in which one spouse is an avid rider often turn the passion into an avenue for income.
"It's been really great to see how people have come together to start businesses," he said. "(the blog) has been an opportunity for me to explore collaboration and entrepreneurship in these relationships."
He has seen this collaborative force develop in his own relationship. For years, Harfield has supported Wallace as her marketing director, managing her social media endeavors, producing video and managing her relationships with sponsors. They make an excellent team, Harfield explained, because Wallace would rather spend time on perfecting her art than on self promotion. Accomplishments like winning the Extreme Mustang Makeover (2012, Clemson, SC) or being named to the USEF High Performance Training List (earlier this year) probably wouldn't receive as much public attention without Harfield's careful documentation and broadcasting efforts.
He sees Wallace's determination, and also her modesty, as an open door for both of them.
"I'm really excited to support her," he said. "Her humility in the face of these successes really creates opportunities for us."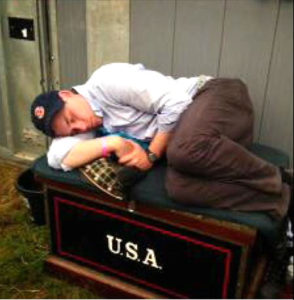 The philosophy of a horsey marriage
Harfield's interpretation of marriage to an equestrian inevitably draws on his philosophy background. Successfully integrating horses into a marriage is a matter of perspective, Harfield explained: some spouses see piles of bills; others see an opportunity for growth.
In Harfield's view, successful couples tend to see horses as an "us thing," although the process takes some mental redirection when one person is completely new to horses. This type of relationship presents obvious challenges but Harfield feels there's an opportunity for exponential personal growth when juxtaposed against a situation where both people come from similar professional backgrounds
"Those relationships can be successful because you share something in common," he explained, "but it can lead to an imbalanced life … other important parts of yourself can begin to atrophy."
Harfield and Wallace initially met in 2011 through an online dating service. Harfield had come to Georgia from his native Canada to complete his PhD at Emory University in Atlanta. The two found common ground in their artistic and literary bents – Wallace was an art and sculpture major in college – but they also respected the fact that they had significantly different life experiences.
Soon, as Harfield has observed with other horse couples, the two began to synergize the knowledge they brought from their divergent backgrounds. Although he doesn't ride, Harfield's background as a marketing consultant and as a philosopher has allowed him to be a valuable voice to Wallace as she rehashes her practices.
"I can give language to many of the experiences Elisa has," he explained.
He, in turn, is learning from her how to communicate with the couple's menagerie of four-legged family members. Having not grown up around animals, he found living with pets required a new skill set.
When it comes to horses, fluency is a work in progress that Harfield capitalizes on with his blog posts. He frequently features other horse husbands, and some of his best material, he said, has come from sources like himself who are still getting used to equines.
One in particular is Gamal Awad, husband of Canadian eventer Hawley Bennett. Awad, an ex-U.S. marine, turned massage therapist, admits an innate fear of horses.
"He's funny, but he's also very frank," Harfield said. "Horses are terrifying. For me that really resonates."
"(Horses) scare the living s#%! out of me. I'm not going to lie," Awad confesses in an interview Harfield published earlier this year on horsehubby.com. "It's what she loves so I embrace it (I'd rather get shot at if I had a choice)."
It's an interesting perspective from someone who has been through the U.S. Army Airborne school. (Read that to mean Awad has jumped out of planes.) It's also a reminder that horses appear very differently to those who weren't born with an inexplicable affinity.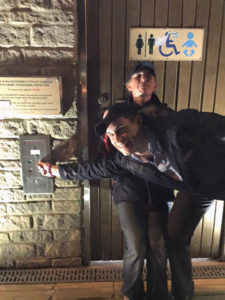 Looking forward
Harfield's overarching goal for the blog is to create a forum of sorts.
"I like to connect people," he explained.
Sometimes these connections occur between romantic partners reading his posts, and other times they occur between Harfield and the horse world at large. His efforts have already begun garnering him attention from other equestrian media outlets. He recently began co-hosting a monthly horse husband episode of Horses in the Morning with Glenn the Geek on the Horse Radio Network.
Perhaps it's Harfield's charmingly unassuming air that has bolstered the blog's growing popularity. After all, he's attending prestigious equestrian events with one of the most prominent rising stars in the country, and he's still wondering if his footwear is appropriate. Or maybe it's simply that he's truly trying to shed light on the subject that's so often ignored: how does the non-horsey spouse adapt?
Either way, in sharing his journey and the stories of others walking the same path, Harfield has found a way to promote healthy relationships in the equestrian world that is proving to be disarming and refreshing.