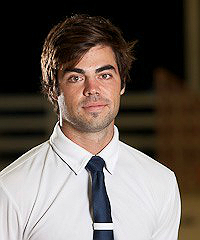 Standout rider: Ryan Genn: Ryan Genn, a Junior at SCAD, represented the team in the Individual Equitation on the Flat and in the Open Over Fences at this year's Intercollegiate Horse Shows Association Nationals. He said the team's emphasis on mental preparation was what really shone through during the classes.
He attributed the team's success to "nobody caving under pressure." "I was really proud of everybody," Genn, who served as team co-captain this season, said. "You get so close to your teammates."
Genn has had plenty of experience in the showring outside IHSA; he rides jumpers at the grand prix level when he is at home in Ohio. Nevertheless, the IHSA format can be quite challenging because of the required catch-riding, he said.
The horse a rider is assigned plays a large part in his or her success; Genn said he was pleased with the overall quality of the draws.
"It was a really even playing field" in terms of the quality of horses at this Nationals, he said. His draws, both tall bays, were top-notch, he said, and "not tricky at all." He described the gelding he rode on the flat as a "really cool" horse who "went nicely in the frame."
KNOCKING ON THE DOOR: He said it was the team members' collective hope for SCAD to finally ascend to the top huntseat team slot after several narrow misses. The Bees, he explained, finished third in the nation his freshman year; they tied for a 2014 fourth place with Delaware Valley College, but they came away last year with the biggest point count they had ever scored.
Genn said the team went in with "huge expectations" this year. They had, he pointed out, run away with their region win this season and also won the Zone 5 huntseat semifinals. "We had such high hopes," he said. "We had been knocking on the door for so long."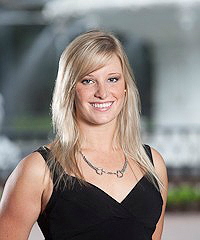 Standout rider: Heather Partlow: SCAD Junior Heather Partlow is relatively new to the world of horseshowing. She joined the school's riding team during the winter of her sophomore year, and she represented SCAD in the Walk/ Trot Equitation this past year.
Evidently, horseshowing was a good fit for her, as she won the team Walk/ Trot class at this year's IHSA Nationals.
Partlow recalls visiting the school's barn to do some riding in hopes of exempting one of her equestrian studies courses. Her ride evidently made an impression on two of the most prominent figures in the IHSA huntseat world: SCAD Head Coach Ashley Henry and the school's Equestrian Studies Program Director Eddie Federwisch.
"Eddie and Ashley just pretty much didn't let me leave the barn until I told them I'd join the team," Partlow recalls, laughing.
Crossover techniques: Partlow attributes some of her success to the fact that she's a seasoned competitor in another sport: she also represents SCAD in swimming. She has found similarities between the two sports that have helped her perform in the showring, she said.
"I find myself comparing a lot of what I do in my riding to a lot of what I do in my swimming," she explained.
The fact that she was already so familiar with the pressures of competition paid off, and she implemented some of the techniques she uses to ensure success when she's swimming. For example, she made a habit of designating time for a warm-up session before each ride.
She used exercises like lunging up stairs to stay limber and relaxed before the Nationals class.
"Warming up helps me to calm my nerves," she said.
Class strategy: Despite having some lingering butterflies going into the class, she said her performance went smoothly. One of her main objectives was finding a space where she could be visible to the judges in such a large group.
"I stayed relatively on my own," she explained. "When you have so many people, you want to make sure that you get seen."
Her draw, a big bay named "Lance," "ended up being awesome," she said. "He was really sweet. In the Walk/ Trot group, you tend to get the bombproof ones."
Partlow is still deciding exactly what she wants to do after graduation. Her family owns land in Indiana, she said, and she has thought about moving back there and implementing her education in the area of barn management.
For now, though, she's enjoying being a newlywed. She and her husband married earlier this year. He is an Army Ranger, and she plans to travel with him while he completes his tour of duty.