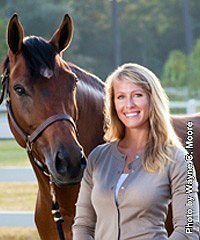 This past show season was especially poignant for Savannah College of Art and Design Head Equestrian Coach Ashley Henry, as it marked her 10th year coaching for her alma mater.
She came to the school, she said, with a specific interest in its equestrian program. Although it's widely known for its art and design offerings (as its name would suggest) Henry explained that SCAD has made its equestrian program an integral part of its curriculum. The school now offers a Bachelor of Arts in Equestrian Studies. The curriculum description on the school's website lists classes like "Advanced Horse Care and Management," "Principles of Equine Anatomy" and "Equine Business Management" among a slew of upper-level courses.
The horse program has expanded in recent years to include an off-campus equestrian center that encompasses property and a barn where the riders train. These additions were a part of the school's growth plan for quite a while, according to Henry.
"It was always in SCAD's plan to have an equestrian center," she said.
The school's horse-related opportunities were attractive to Henry when she chose to attend SCAD.
"I liked art school, but I knew I needed to ride," she explained.
After a particularly successful senior show season, during which time she was captain of the equestrian team, the administration asked her to stay on as huntseat coach. Despite the fact that the jewelry design major had an internship lined up in New York, she decided to embark on a completely different journey with SCAD, and her enthusiasm for the horse program has only grown.
"I love my job," she said simply.
Her feelings show in her dedication to her team. In May, she saw her riders take home the Intercollegiate Horse Shows Association team huntseat championship – a particularly sweet experience for Henry, who represented the school at nationals herself when she was a student.