Horses for Hugs immortalizes cherished equines in cuddleable form
When Maddie Frye put out a feeler on Facebook this past fall – something to the effect of "who would buy a customized stuffed horse-" she didn't realize she was kicking off a cottage industry.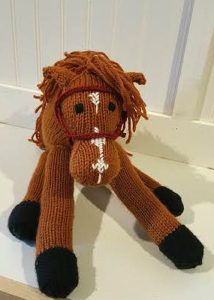 See Horses for Hugs on Facebook for contact and ordering information.
She got more than 100 enthusiastic comments within the span of 24 hours. As of early January, she was booked out with orders for the next 12 weeks.
Frye christened her fledgeling business Horses for Hugs and says she'll use the money to fund a longtime dream of riding – she plans to purchase lessons or lease a horse.
Each stuffed horse starts off with a knitted shell and is then stuffed in such a way that it remains floppy. Frye learned to knit at the tender age of nine when her mom introduced her to the activity.
"It was just something we did together," Frye recalled. "It's very therapeutic."
The ponies are made to sit "on their rumps," Frye said, and she makes sure each one has the special markings in the pictures their owners send. When the CE talked to her, she was about to start work on a leopard Appaloosa.
"That one's going to be fun," she said. "Luckily it's got big spots."
She's only had to turn down a couple of orders because of difficulty – they were varnish roans.
Each horse typically takes around 35 hours to make, and custom orders are currently priced at $45. Frye said she'll probably bump that price point up in the near future because she's so flooded with orders. Wait time for a custom order is approximately six weeks.
She is also starting to offer a smaller stuffed pony that will be available in solid colors only and will be stuffed so that it can stand by itself.