My dressage partner (pictured with me below) is an unlikely one. Her name is Cheyenne, and she is a 17-year-old AQHA/APHA mare who has had six babies and two previous careers. I think some people assume I've owned her for a long time, but I haven't. I only purchased her in 2013. Others assume she's somewhat of a schoolmaster since she's older and I'm only beginning my dressage career. Not true either.
I came to own Chey through a series of events that led me to purchase her as a broodmare. I wanted to produce a really nice hunter under saddle horse, and Chey had a track record of being able to throw level-headed babies with lots of suspension and an elegant knee. I bought her, bred her to a fine HUS APHA stud, and we got a really nice baby. Mission accomplished.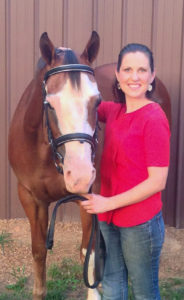 But as you all know, one project leads to another with horses. While Chey was pregnant, my interest in dressage had only grown, and I knew that I would need a suitable partner – one that could handle both the physical and mental demands of advancing up the levels. It seemed logical to work with the resources I had, so once the baby was weaned, I put Chey back into work at training level. My riding time, for several reasons, was very limited, but we trained diligently. I lessoned with a USDF gold medalist who I trailered Chey to on a regular basis, and we fit in rides at home wherever we could. Gradually, the leg yield became more forward, and the shoulder in improved. I began to feel her take the bit when she was really connected and gently pull me along. Our trainer deemed us ready to debut at training level, so we competed in our first USDF recognized show in Conyers, Ga. in August.
My heart was pounding as we trotted and cantered around the arena. I had absolute confidence that Chey wouldn't do anything unpredictable, but I am notorious for my show nerves. The entrance and halt were smooth if a little conservative, but as we entered the first 20-meter circle, I felt the mare grab another gear.
She took the full contact and strode out across the arena. I realized all I really had to do was A) not fall off and B) keep her on course, so to speak. She knew we were showing. Not only was she cooperating, but she was invested.
The rest of the test went wonderfully. I had tears in my eyes as I scratched her withers on the way out of the arena. I thought about the fact that she had done so much in her lifetime, but even at 17, she was still giving her all.
Experiences like this one are why we do all this, aren't they? For a few minutes, the stall mucking, the no-stirrups torture sessions and the endless commutes to the barn all fall away, and it's clear that there is something true and good and pure.
If you'll take a few minutes to check out The Collective Equestrian Fall edition, I  think you'll find this thread consistently. Winter is on its way and with the change in seasons, most of us will see our riding time decrease, so we've included some inspiration on how to get your horsey fix even while it's sleeting sideways outside.
We spoke with Josh Peebles of All Purpose Horsemanship in Young Harris, Ga., about his Extreme Mustang Makeover endeavors and his desire to make horsemanship challenges available locally.
We delved into the relationships that come out of a passion for all things equestrian with Timothy Harfield, husband of professional three day eventer Elisa Wallace. Although Timothy doesn't ride, he certainly recognizes the significance of an intrinsic love of horses.
Don't miss our customized reading list with old favorites and recently-released horse material. I think you'll appreciate it when you're curled up by the fire with a mug of cocoa this winter.
And finally, take a look at what your neighbors have been up to this show season in our local section on page 14. I encourage you to submit your own accomplishments for print – just follow the instructions provided.
As always, thank you for your readership; enjoy the magazine and stay in touch!
Sincerely,
Liz