FROM IHSA
The 2016 USEF Cacchione Cup at the Kentucky Horse Park at the Intercollegiate Horse Shows Association National Championships this past weekend ended with a work-off Shakespearean in its proportion. Riders representing two Southern schools made the call-back in which "to simple, or to flying change" was the question posed by judges Carole O'Brien and Julie Winkel.
The work-off was a contest between eventual winner, Tufts University senior Chase Boggio; Victoria 'Tori' Bauer, of the College of Charleston; and Ryan Genn of The Savannah College of Art & Design. Bauer was named reserve champion, and Genn took third place after the work-off, which required the riders to canter a serpentine the length of the Alltech Arena while demonstrating flying or simple changes.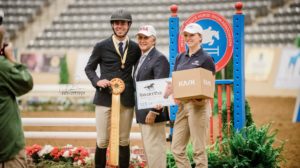 The fences portion of the Cacchione Cup featured courses by USEF R designer and Johnson & Wales University graduate Tom Hern, Jr., who said his intent was to offer "interesting options based on the horses," like his IHSA Fence into a rollback over a straight line.
Bauer accepted the EquestrianCoach.com Achievement of Excellence Award for a $500 stipend and internship with Stacia Madden in addition to her reserve title. Bauer's coach, Bob Story, also coached last year's Cacchione champion, Elizabeth Hayes.
"This week was about riding my personal best. I'm grateful to my friends and family and most importantly to Coach Story for his hard work helping me get ready for Nationals," said Bauer, who had three generations of matriarchs cheering her on, including her 97 year-old grandmother, Yvonne, who never doubted her granddaughter would not live up to her "victorious" name.
"I'm proud of her," said Story. "Of course I wanted back-to-back wins because it hasn't been done in so long (1982-1983, CeCe Williamson, University of Virginia) but she was wonderfully consistent. Weak points? Tori doesn't have any weak points."
It seems all good things eventually come South. Even though Boggio's graduating from a Massachusetts school, where he served for two years as captain of the Tufts University Equestrian Team, he'll soon call the state of Georgia home. He will graduate with a degree in economics and international relations, and he's has accepted a position with an Atlanta management firm where he will begin work in July.
Other Southern highlights from Nationals
Ashley Henry, coach of The Savannah College of Art & Design 2015 national champion team had to confess that OK, maybe plans to start a family were built (just a little) around defending their high point team Collegiate Cup title in 2016 and, like a good over fences rider, she hit all her marks. The SCAD Bees came to Kentucky having won eight out of nine IHSA shows and were anchored in their focus by senior captains Ryan Genn and Devon Walther.
"Devon and Ryan have been upper level, educated riders that stay focused and never forget that it's not over as long as there's still classes. This has been an amazing team that has worked endlessly. All we've tried to do is stay humble," said coach Henry, whose next "trip" after Kentucky is a baby boy expected in mid-June.
"We planned it out, after Nationals," she blushed.
And over baby's crib… that Collegiate Cup?
Hunt seat horses honored at Nationals included University of Kentucky's "Red Alert" (TJC "Mac Goo") for the Jockey Club Thoroughbred Incentive Program (TIP) Award; Cazenovia College's "Collins" and Morrisville State's "Rex" tied for Triple Crown Nutrition Inc. High Point Hunt Seat Horse; Skidmore College "one-eyed wonder," "Amitelli," (who took Ryan Genn to third in the Cacchione Cup) was named the SmartPak Most Popular Hunt Seat Horse.
The South also shone in the chase for the Western team title with Berry College in Rome, Ga. and St. Andrews University in Laurinburg, N.C., tying for the championship with 19 points apiece.
St. Andrews Western Coach Carla Wennberg was recognized with the 2016 IHSA Western Coach Sportsmanship Award for her work as "a teacher who positively reinforces her riders, makes sure her team is prepared, and is always ready to help others." Also honored was another St. Andrews team member – "Vinnie," who was named SmartPak Most Popular Western Horse.
For the top four finalists in the NRHA Open Reining national championship at IHSA Nationals, there will be no time to slide back on their laurels, having qualified for the June 30 NRHA Collegiate Reining Championships in Oklahoma. Among those earning this honor was Leah Piper of Middle Tennessee State University.
Find complete results on www.IHSAinc.com.