One of the key concepts of 16-year-old Miguel Wilson's Ride to the Olympics Foundation is rooted in helping others kickstart their equestrian dreams.
The Atlanta native is himself currently building a riding career that he hopes will propel him to the 2024 Olympics in showjumping, and he plans to be the first African American member of the United States Equestrian Team to achieve this feat.
These things alone should be distinguishing enough, but Wilson insists that this goal is not just about him. He wants to impact other young people along the way, those who might not have a chance to ride otherwise, and he plans to act as a launch pad for them to begin working toward their equestrian goals. Wilson's Ride to the Olympics Foundation is the platform he is using to involve the public in his Olympic goal and also in his endeavors to reach underprivileged children who want to find a foothold in the equestrian world.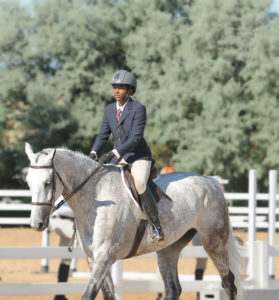 "I wanted to give kids who aren't exactly born into great means the opportunity to ride and to be around horses," Wilson explains.
Wilson has already hosted a "Day at the Barn" event at an Alpharetta-area barn, during which he introduced a group of visiting youth to the resident horses and provided a riding demonstration. His plans for the Foundation go far beyond just getting kids into the barn, though.
The next step:
Wilson plans to host a "Day at the Show" in order to introduce would-be competitors to the rigors of an actual show day. He also wants to host a horse camp – this one will be, he admits, "a big undertaking."
He needs significant resources to pull off an event of this magnitude; some of the biggest needs would be counselors, horses and a facility to host the camp.
Another big goal is to provide a support system for kids getting started in the horse show world; this desire inspired the rider level system he wants to institute as the Foundation becomes capable of sponsoring young people. The levels will run the gamut of rider ability, and he has a vision of donations to the Foundation providing funding for kids at the advanced level to travel and show.
Basically, the Foundation would provide "anything you would need to get to live out the rider dream," Wilson explains.
How you can help:
The Ride to the Olympics Foundation is currently accepting donations both for Wilson's Olympic goal and his outreach efforts. The Foundation, according to Wilson's father, Miguel Wilson, Sr.,  is in the process of becoming a nonprofit organization, so donations will soon be tax deductible. Donations may be made via credit card or Paypal.
For more information and to donate visit http://ridetotheolympics.com.