By LIZ CRUMBLY
In a sandy arena, the June sun beating down, a young man puts a jumper through its paces during an afternoon schooling session. The rider's performance is so eye catching that a trainer teaching a lesson nearby stops her students to watch; her assessment of his dedication: "He wants it."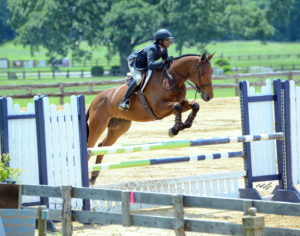 That rider is Atlanta native Miguel Wilson; he remembers the comment clearly, and  he concurs with it wholeheartedly. So, what exactly is it?
Wilson, at 16, can tell you precisely. He has skyscraping dreams that, should he achieve them, will leave a lasting impression on the horse world in more ways than one. He is currently building a riding career that he hopes will propel him to the 2024 Olympics in showjumping, and he plans to be the first African American member of the United States Equestrian Team to achieve this feat.
* A leg up: Click here to read about Miguel Wilson's Ride to the Olympics Foundation, a charitable organization that helps underprivileged youth get a toehold in the equestrian world.
Chasing an education: For someone who has had to pretty well blaze his own trail, Wilson has laid the foundation for his higher education in riding fairly quickly. A little more than two years ago, the next step in his horse-showing experience was just in the idea stage. Today, he's riding full-time (save for regular visits home to Atlanta) as a working student at Pine Hollow Farms in New Caney, Texas, under professional hunter and jumper trainer Will Roberts.
A lot of his story up to this point involves carving out his own toeholds, without a whole lot of financial capital, in an industry where a lack of funding can be the kiss of death for a burgeoning career. Two years ago, according to his father, Miguel was a standout runner on his eighth-grade track team, and he was succeeding academically. It looked like running would be an opportunity he would pursue very competitively.
Miguel Sr. realized things had begun to take a different turn, however, when Miguel returned from a horse show in Pennsylvania and sat his father down for a serious conversation.
"'Dad, I don't want to go back to school next year, and I don't want to run track anymore," he remembers his son saying. Miguel wanted to pursue riding full time, and he had hatched a plan to do it. He presented a scenario that would take him to Texas. He had already obtained information, his father recalls, about an online education program that seemed to be competitive as or more so than the brick-and-mortar one he was enrolled in at the time.
This is one of those scenarios that would have a lot of parents applying the brakes immediately, but Miguel Sr. realized that his son's horse obsession was not something he could ignore or tamp down. As he puts it, when Miguel began riding, "the bug bit him hard."
And Miguel had another thing working in his favor: his father knows what it's like to love horses.
Miguel Sr.  rode as a child at horse camp; equines were a breath of fresh air for a kid growing up in Washington D.C. "He's the one who got that passion," he says of his son. "When I was a kid, I was similar. I fell in love with them just like he did – from the start. Horses were my escape from the inner city."
Given his understanding of horses and of his son's determination, he believed Miguel had a chance to ascend to the top ranks of the competitive riding world. So instead of becoming overwhelmed by the direction things were taking, Miguel Sr. began brainstorming. The two Wilsons took a road trip from their home in Atlanta to Virginia, and they had some frank discussion about the financial backing that Miguel's goals would require.
"I told him that I did not have the resources at the time," Miguel Sr. says. But he also told his son not to give up and that they would find a way to begin scaling the Mount Everest of riding goals.
"Don't get discouraged," Miguel Sr. recalls telling his son. "There's always more than one way to get what you want in life."
Miguel Sr. felt the horse-owning public would want to help, but he realized they had to hear Miguel's story in order to do that.
"We've got to create a vehicle for you to introduce yourself to them," he told his son.
By the end of that road trip, they had hashed out a framework for the Ride to the Olympics Foundation: it's part charitable foundation for other young people who want to ride, part publicity vehicle for Miguel's Olympic dream. When Miguel discusses the Foundation, his excitement for the myriad of charitable events he has in the planning stages is palpable.
Right now, though, as Miguel Sr. points out, the pair have their hands rather full as they negotiate the challenges of building Miguel's career. Miguel is hopeful that the Foundation will help in bringing him the attention, and by extension the funding, that he needs to eventually step into the international spotlight. "We thought this could definitely happen," he says, "having it out there – it would help … Even if I don't make it to the Olympics, I've definitely done something … with the right amount of funding, I could do it."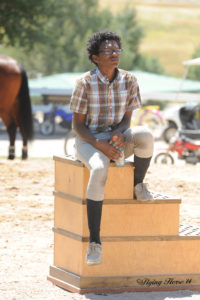 A day in the life of an aspiring Olympian: Miguel Wilson is living out the dream that so many young people say they wish they could pursue: the one that ends with riders piloting lavishly talented horses through Olympic jumper courses. The nagging question most teenagers circumnavigate is this: what does it really take to get there? Apparently, what it takes is the ability to keep the vision through the daily grind and through the changing scenery.
Miguel has already had working student positions at several large barns, and he's picked up different skills and responsibilities during each one. When  he is "at home," i.e. not helping at a horse show, Miguel's routine is fairly unchanging. It often involves non-horse-related tasks like feeding a farm's dogs early each morning or painting jumps. That one actually took up quite a bit of his time last fall. Each day, Miguel found himself in jump makeover mode, paintbrush in hand; the experience was a new one that quickly grew old.
"I had never painted before, except for finger painting in art class," he recalls.
The actual riding gig is far more interesting, but it's not for the faint of heart, due to the sheer number of equines Miguel is responsible for working day in and day out. He's on his first horse of the day by 9 a.m., and then he rides … and rides, working five to 10 training horses each day, depending on which clients will be visiting. It's the kind of rigorous schedule that weeds out the wishful riders from the really driven ones, and Miguel acknowledges that fact. Existing as a teenager in settings typically reserved for adults has its challenges.
"I'm always thrown in situations," he remarks. "I'm always surrounded by adults, the grooms, the trainers. Sometimes they lose sight of the fact that I am 16."
He says the growing pains that a working student position brings are well-worth the effort, however. If a rider doesn't have the fortitude to "tough" these situations out, he says, a training career probably isn't right for them.
"I wouldn't trade what I'm learning for anything," he says. "It's something that you kind of have to be tough-skinned about and have to push through because there will definitely be a lot of setbacks."
An A average: Finding a balance between riding, academics and his charitable pursuits is also a hurdle. "My head is spinning," he says, "all day long about schoolwork, the Foundation, schoolwork …"
Despite a rigorous show schedule (during a previous working student position, he regularly helped his employer transport between 15 and 30 show horses between Texas and faraway destinations like Wellington, Fla.), Wilson maintains a A average in school, according to his father. Academics are something that always hover at the edge of Miguel's thoughts, and he mentions school a lot when talking about his daily life. Sometimes it's difficult to retrieve his online course materials when traveling, as wireless access is spotty at some venues, but he gets the work done in the end.
"It's something that my parents kind of instilled in me," he explains. "Education is important." He's not sure how academics and riding will meld in the future, but post-secondary education is very much part of his plan. "I do want to go to a university," he says. "I'm not sure which one."
Even with college on the horizon, he still has his sights firmly set on riding professionally. "When you invest so much into something, it's really hard to imagine doing something else with my life," he explains. "I love riding, and it's basically what I base my life on at this point … I've moved away from my family to ride and to live the dream."