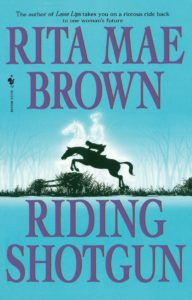 The Old Standby: RIDING SHOTGUN
(Bantam Books)
If you traveled back in time 300 years, what's the one thing you would take with you from this life? For Pryor Chesterfield Deyhl, it was her fine bay Thoroughbred gelding.
Rita Mae Brown's "Riding Shotgun" is just one in a cache of foxhunting novels in which the author guides us through the rich tradition of hunters in the verdant Virginia fields.  Published in 1996, this particular novel is notable because of the attention to detail in its juxtaposing descriptions of riding in this time period and that of 1699. The turn of the 17th century is where the protagonist, Pryor, or "Cig," as her present-day acquaintances call her, ends up when she and her good hunter, "Full Throttle" get lost in a strange fog after being separated from the local hunt club one October morning in 1995.
Cig, though desperate to make it back to her modern-day life, decides to make the best of a bewildering situation. It turns out she's stepped into the shoes of an ancestor who conveniently shares her name. She soon finds herself embroiled in the daily challenges of life in early America. She confronts issues that faced women of that time period – some will be foreign to the reader and some will be unnervingly familiar.
Brown, a horsewoman herself, has a knack for mixing in horsey scenes and details at just the right time. Her intimate knowledge of clothing and tack are evident in her detailed descriptions of hunt preparations and proceedings. She sends the reader on several rollicking tours of Virginia's hunt country, making the layers of tradition in foxhunting a satisfying tie between the 20th and 17th centuries. Cig takes us on several tears across yellowing corn fields, over stone walls, in-and-out combinations, always in hot pursuit of baying hounds.
Riders will be pleased with Brown's attention to detail as she contrasts the forward jumping seat of today with the behind-the-motion technique of yesteryear. Though Cig continues to wear breeches and ride astride when she travels back in time, Brown doesn't forget to remind us that women of that time period typically wore skirted habits and rode sidesaddle.
The hunt scenes alone are reason enough to curl up with "Riding Shotgun" and a cup of cocoa on a crisp fall evening, but Brown throws in a few nice, round plot twists that keep the pages turning, as well: think love triangles in both centuries and unrest between colonists and Native Americans.