Schleese technician Amanda Silver does saddle fitting and family life on the road
By LIZ CRUMBLY
Editor
A lot of people probably wouldn't understand the concept of buying property to add another "base" to one's living arrangements, but that's exactly what Amanda Silver did recently. The Southeast Saddle Fit owner boomerangs constantly among five states, so a property on the South Carolina coast, in addition to her permanent home in North Carolina, just made sense.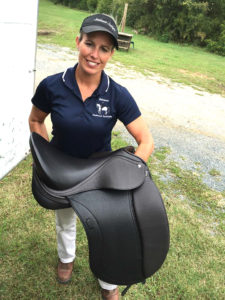 Silver serves clients looking for the quality of fit that only a custom saddle can provide; she schedules her visits to barns around the Southeast at least three months in advance, sometimes more. In between matching saddles to horses and humans, she's homeschooling her two children, Bo, 7, and Brooke, 5, with help from her husband, Dan.
On the road
The couple makes traveling an educational experience for their children as much as possible. They've made Edisto Beach State Park in South Carolina a regular destination; the kids can feed the aquatic animals and mountain bike.
As for the more pedestrian details of a typical day for the family – the ones that don't involve beautiful scenery – the Silvers have stuck a balance teaching the children between saddle fitting sessions. They use a curriculum from a private school based in California; Amanda teaches when the family is at home and Dan instructs when they're on the road.
Traveling with the entire family means certain things like overnight stays take a little planning. Amanda said they try to find lodging situations with pools – the kids can often use some play time after studying in the car most of the day. Continental breakfasts are also a good thing when the family needs to get on the road early.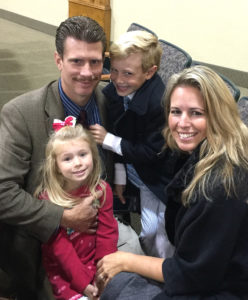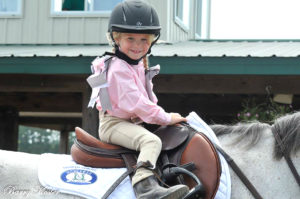 Working together
Amanda and Dan met growing up near each other in North Carolina.
"I've known him all my life," Amanda explained.
They married in August 1996, so their 20th anniversary is not far away. Their commitment to running her business together and educating their children simultaneously has required close physical proximity – in fact, the two have never spent a night apart during their marriage, Amanda said.
When the family is on the road, Dan helps with certain aspects of the saddle fitting sessions; when they are at home, he runs his own grading business.
Their flexibility as entrepreneurs proves beneficial in scheduling saddle fitting sessions, Amanda said.
"Since we're both self employed, we're able to work around our schedules," she explained. "We try to schedule our events three months in advance, at least."
Prompt response is one of Amanda's top priorities. When a client contacts the Southeast Saddle Fit team, they can expect a response within 24 hours. Making people feel as though she's available, even though she may be several states away, is key in serving a clientele that depends on her to make regular adjustments.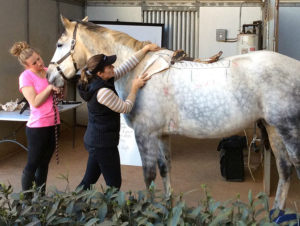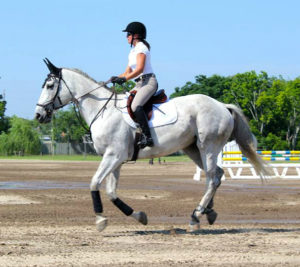 The saddles
The saddles on the Southeast Saddle Fit trailer all have at least one thing in common – they're made by Schleese Saddlery, a Canadian company. Amanda performs fittings on all brands of saddles, but she only sells Schleeses as a representative for that company. Her association with Schleese began years ago when she began having saddle fit issues of her own.
She had just received her certificate to teach from the Certified Horsemanship Association (CHA). Engulfed in the quest to find the right saddle for her horse, she pursued certification with the Saddle Fit 4 Life network and secured an internship with Schleese. The internship sent her to Florida and also to Canada, where she returns each year to renew her certification as a technician for Saddle Fit 4 Life and Schleese.
In her extensive exploration of the world of high-end saddles, Amanda has found Schleese to be the one brand of saddle that can truly deliver on the oft-heard "fully adjustable" claim. She attributes this finding to the fact that Schleeses can be widened or narrowed around the horse's withers, not simply along the gullet.
"I was blown away by their adaptability," she recalled of her early experiences with the saddles.
As technology has advanced, so have fitters' abilities to visualize through processes like thermographing where improperly fitted saddles are hurting horses.
"We really see the damage that's being done," Amanda said.
On the flip side, she's able to help horses with this knowledge.
"I can really make all the needed adjustments, ergonomically, for the horse," she explained.